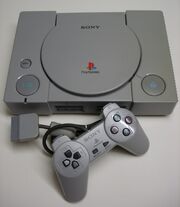 The Playstation  is a console originally designed by Sony after a deal with Nintendo to make a games console fell through after disagreements between the two companies over
It was originally released in December of 1994 in Japan and releases in Western countries in 1995. It has spawned 6 gaming platforms under that name on both consoles and hand helds with the Playstation 2 being the best-selling games console with over 155 million units sold as of October 2012 and when it was released it became the fastest console to sell 100 million units worldwide and also the latest addition to the PlayStation family, the PlayStation 4, selling 1 million units worldwide in the first 24 hours after its release and latest results showing sales of 4.2 million units, 1.2 million units more than Xbox One sold over a longer period.
Platforms
Edit
PlayStation (PS1)
Edit
The original Playstation was created during an agreement between Nintendo and Sony to make a disc based console for the Video-Game Market. The deal quickly went out the window after Nintendo found a clause in the contract that they had signed in 1988 that said Sony had complete control over any and all titles released on the console and soon after Nintendo dropped out and developed the Nintendo 64. Although Nintendo had dropped out Sony still had the console and had come up with a name, Playstation. After its release it became very popular and in 2002, 9 years and 6 months after its initial release in Japan the console became the first console to sell over 100 million units. It was finally discontinued 2 years later in 2004 after 10 years on the market having sold 102 million units. Games for the PS1 were discontinued in 2006 12 years after it initialy released.
Playstation 2 (PS2)
Edit
The Plastation 2 was released on the 4th March 2000 making it the first sixth generation console on the market. It was met with great reception by the general public allowing it to become the fastest sonsole to reach 100 million units sold in 5 years and 9 months and becoming the best selling console of all time with 155 million units sold by the time it was discontinued in 2013
Section heading
Edit
Write the second section of your page here.